August 25, 2023
By William Cracraft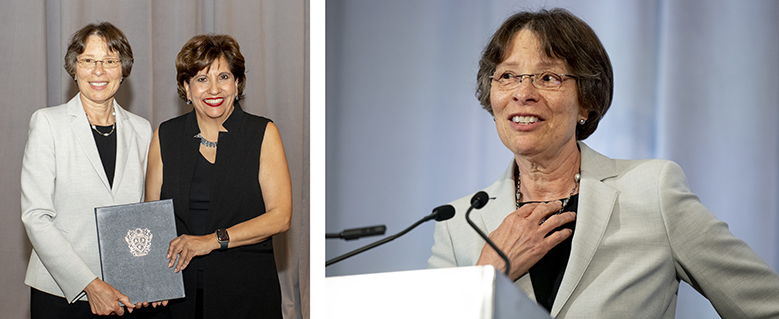 Chief Judge Mary H. Murguia, pictured right, presents the 2023 American Inns of Court Professionalism Award for the Ninth Circuit to Senior District Judge Phyllis J. Hamilton.
Senior District Judge Phyllis J. Hamilton of the United States District Court for the Northern District of California has received the prestigious 2023 American Inns of Court Professionalism Award for the Ninth Circuit. Chief Judge Mary H. Murguia presented the award during the 2023 Ninth Circuit Judicial Conference held July 31-Aug. 4 in Portland, Oregon.
The award was given in recognition of her dedication to access to justice issues and for her lifetime of public service. "Judge Hamilton led important and groundbreaking work in collaboration with the UCSF Memory and Aging Center and her contributions in this area have served as a national model for other circuit courts to follow as well as state courts and organizations nationwide. Anyone who knows or has worked with Judge Hamilton can attest to her thoughtful, fair-minded, respectful, and no-nonsense approach to the law. She truly embodies the best attributes of a judge," expressed Chief Judge Murguia.
Judge Hamilton's distinguished career embodies the exemplary character, integrity, professionalism, and dedication to the rule of law required of recipients of this award, said the Honorable Edward A. Torpoco (ret.), president of Edward J. McFetridge American Inn of Court, in his nomination letter. "After graduating law school, she devoted almost her entire legal career to public service. She was the first African American woman in the court's history to serve as Chief Judge.
"As long-standing members of our local bar and bench, our leadership team can attest to Judge Hamilton's well-deserved reputation for the fair and efficient handling of both civil and criminal cases as a judicial officer. We also know her to be an active participant in local bar associations, a mentor to students and young lawyers, and a proponent of excellence and professionalism in the bar through her participation in continuing education programs," Judge Torpoco said.
In April 1991, Judge Hamilton was appointed as a United States magistrate judge, the first Black magistrate judge in in the Northern District of California and served in that capacity until her elevation in 2000 as a district judge for the Northern District of California in San Francisco. Judge Hamilton was chief judge of the district from 2014 to 2021, when she assumed senior status. According to the Federal Judicial Center, Judge Hamilton has presided over 7,445 civil cases and cases for 1,754 criminal defendants.
Judge Hamilton has served on various committees for the Northern District, the Judicial Council of the Ninth Circuit and the Judicial Conference of the United States, including current service as a member of the national Committee on Judicial Conduct and Disability and as the long-term chair of the Ninth Circuit Wellness Committee. She is a member of several affinity bar associations and participates in various mentoring and training programs for law students and young lawyers.
Judge Hamilton received the 2022 California Association of Black Lawyers (CABL) Legendary Champions of Justice Award for judicial excellence and the 2021 Charles Houston Bar Association Trailblazer Award for a career of service and mentoring younger lawyers.
Prior to her federal judicial career, Judge Hamilton served as a court commissioner for the California Superior Court in Alameda County (formerly the Municipal Court, which was abolished when all California trial courts were unified in the late 90s), 1985-1991, and as an administrative judge for the U.S. Merit Systems Protection Board, San Francisco Regional Office, 1980-1985. She also practiced law as a deputy public defender for the California Office of the State Public Defender, 1976-1980.
Judge Hamilton received her Bachelor of Arts degree from Stanford University and her Juris Doctor, cum laude, from Santa Clara University School of Law.
The American Inns of Court professionalism award is given annually in each of the federal circuits to "a lawyer or judge whose life and practice display sterling character and unquestioned integrity, coupled with ongoing dedication to the highest standards of the legal profession and the rule of law."
The American Inns of Court with nearly 370 chapters nationwide, inspires the legal community to advance the rule of law by achieving the highest level of professionalism through example, education, and mentoring.
The Ninth Circuit encompasses Alaska, Arizona, California, Hawaii, Idaho, Montana, Nevada, Oregon, Washington state, the U.S. Territory of Guam and the Commonwealth of the Northern Mariana Islands. It includes the Ninth Circuit Court of Appeals and the federal trial and bankruptcy courts in the 15 judicial districts within the circuit.