August 15, 2022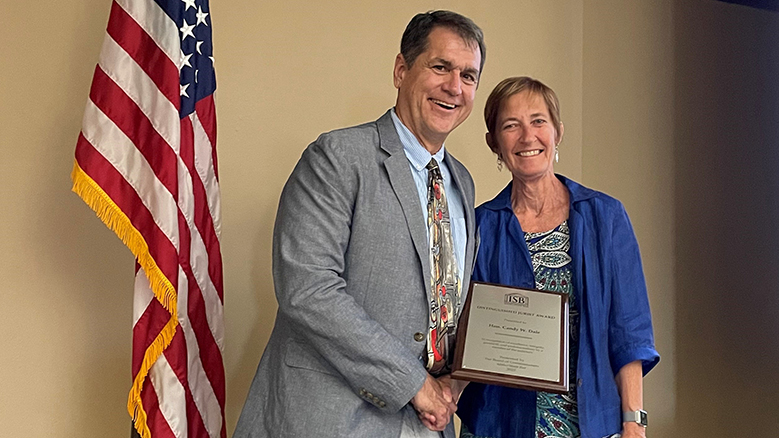 United States Magistrate Judge Candy W. Dale of the U.S. District Court for the District of Idaho is presented with the Idaho State Bar's highest judiciary honor, the Distinguished Jurist Award, by the immediate past president of the Idaho State Bar, Kurt Holzer, at the Idaho State Bar annual meeting in July. (Photo courtesy of the Idaho State Bar Association)
United States Magistrate Judge Candy W. Dale of the U.S. District Court for the District of Idaho was presented with the Idaho State Bar's highest judiciary honor, the Distinguished Jurist Award, in mid-July at the Idaho State Bar annual meeting in Twin Falls, Idaho. Judge Dale, the first woman appointed to serve on the federal bench in Idaho, began her service on March 30, 2008. She served as chief U.S. magistrate judge for the district for eight non-consecutive years and assumed recall status on April 1, 2022.
Judge Dale had been appointed by Chief Justice John G. Roberts, Jr., to serve a two-year term as the magistrate judge observer to the Judicial Conference of the United States and served in that capacity from October 2017 through September 2019. She is a past member of the Ninth Circuit Fairness Committee, Workplace Environment Committee and Jury Trial Improvement Committee, and a past chair of the Magistrate Judges Executive Board for the Ninth Circuit.
Judge Dale graduated, cum laude, in 1982 from the University of Idaho College of Law, where she served as editor-in-chief of the Idaho Law Review. After graduation, she was an associate attorney and shareholder at Moffat Thomas Barret & Blanton, Chtd. In December 1988, she co-founded Hall, Farley, Oberrecht & Blanton, P.A., where she practiced employment law. She remained actively involved in the management of the firm until her appointment to the bench.
The Distinguished Jurist Award recognizes excellence, integrity and independence by a member of the judiciary. Individuals are selected for their competence, fairness, goodwill and professionalism. A full profile of Judge Dale was published in the August 2022 Special Awards Edition of The Advocate, the official magazine of the Idaho State Bar.