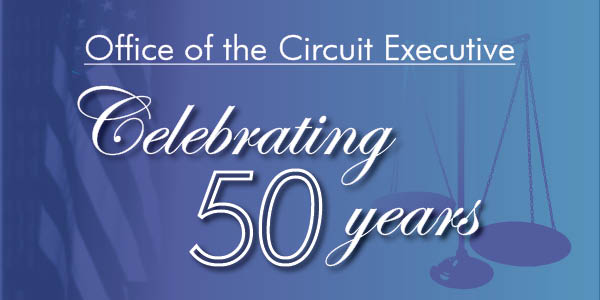 Circuit Executives Celebrate 50th Anniversary of Office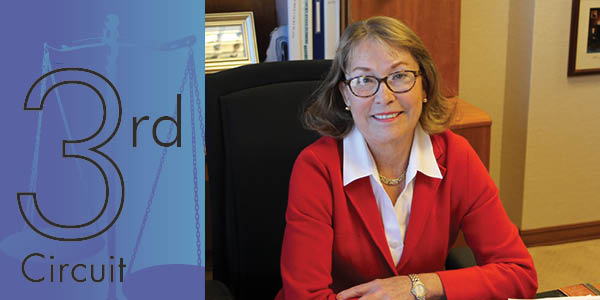 Circuit Executive Margaret A. Wiegand of the Third Circuit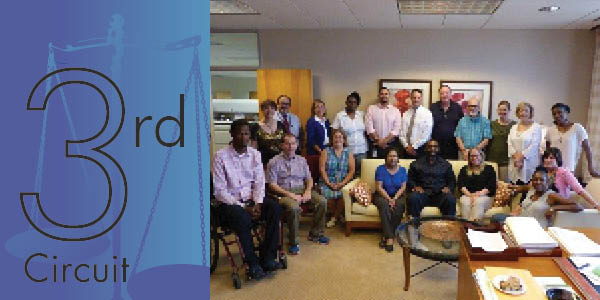 Circuit Executive Staff for the Third Circuit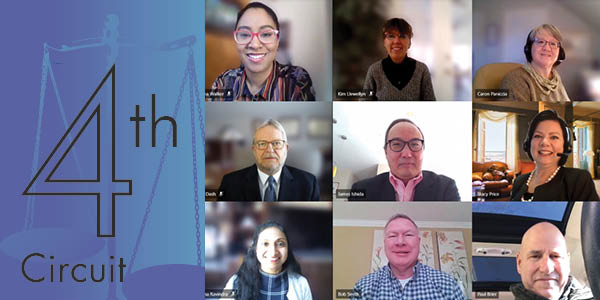 Circuit Executive James N. Ishida, center, and Circuit Executive Staff of the Fourth Circuit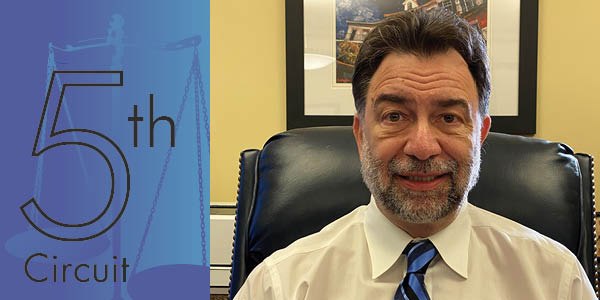 Circuit Executive Theodore P. Cominos of the Fifth Circuit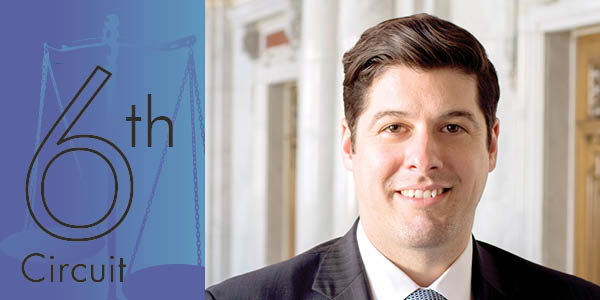 Circuit Executive Marc Theriault of the Sixth Circuit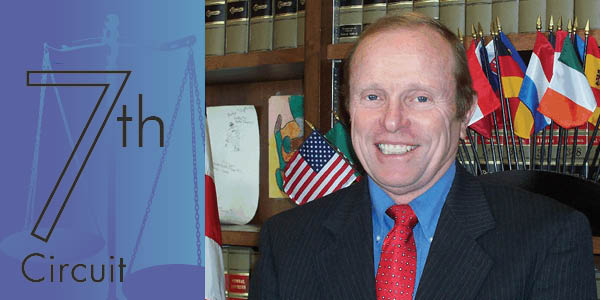 Circuit Executive Collins T. Fitzpatrick of the Seventh Circuit
Photos of current Circuit Executive Millie Adams and previous Circuit Executives for the Eighth Circuit
In 1971, urged by Chief Justice Warren Burger, Congress authorized each circuit judicial council to appoint a circuit executive to carry out the council's directives in administering to the courts. This year, we celebrate 50 years of the Office of the Circuit Executive, the bedrock foundation that allows the courts to administer the law with a minimum of distractions. The 1971 legislation addressed, among other concerns, a caseload crisis in the federal courts and noted that the judicial councils "shall take into account experience in administrative and executive positions, familiarity with court procedures, and special training," when selecting court executive candidates.
Originally, councils selected circuit executives from a list of candidates certified by a board including members of their judicial conference, directors of the Federal Judicial Center, or FJC, and the Administrative Office (AO) of the United States Courts. Since 1988, however, each circuit council has full authority to appoint its circuit executive, and although all duties are under the general supervision of the chief judge of the circuit, the circuit executive serves at the council's pleasure, not that of the court of appeals.
According to the FJC Judicial History, each circuit executive's duties include administration of nonjudicial activities including budget, personnel, property space and records management, maintaining a modern accounting system, providing reports and recommendations to the chief judge of the circuit, the circuit council, and the Judicial Conference of the U.S., liaising with the courts in the various states and with bar associations, the U.S. Marshals Service, news media and any other groups with a reasonable interest in the administration of the circuit. Those 70 or so words translate to a highly complex job that ties together all the elements of a circuit for the sole purpose of seeing justice served.
Collins T. Fitzpatrick, circuit executive of the Seventh Circuit, is the longest serving circuit executive in the nation. Serving "de jure since 1976 and de facto for longer," he said.
One thing that has changed since he took the job is how many people work in the circuit. "We have a lot more staff and judges," he said. "There were fewer Article III judges. There were referees in bankruptcy and commissioners appointed by the district judges. Circuit judges handled patent appeals. We now have magistrate judges and bankruptcy judges. Circuit judges have staffs of five, not two or three. District judges had a secretary and a law clerk and a courtroom deputy clerk who might be a law clerk.
"We only had one district court that had a federal defender. There was no pretrial program and most of the probation officers were selected by the judge and worked with that judge. When I started in 1971, there were no staff attorneys. In 1976 circuit executives were a small office and figuring out what they should do and where they fit in."
Fitzpatrick, like other circuit executives is challenged and intrigued by his job. "Every day at work I am confronted with new problems which need to be solved," he said.
In contrast to Fitzpatrick's nearly 50 years in his role, Theodore P. Cominos is in his third year as circuit executive in the Fifth Circuit. He was deputy circuit executive for five years and worked in the Fifth Circuit Court of Appeals Staff Attorneys' Office for 22 years. He now supervises a staff of 30.
When he moved to the Circuit Executive's Office in 2013, Cominos noted "I was surprised by the broad range of important and fascinating administrative and policy matters, at both the circuit and national levels, that occupy my time. And I was surprised by how quickly an emergency matter needing immediate attention can crop up." Among the possible emergencies are those presented by Mother Nature, a force all the circuits deal with sooner or later.
"The Atlantic hurricane season runs from June through November," said Cominos, "and the 2020 season was the most active on record. Accordingly, my office has acquired considerable expertise in hurricane preparedness; we oversee the court of appeals' Continuity of Operations Plan and provide tropical storm/hurricane notifications to judges and court staff throughout the season, as needed."
Of course, it is the day-to-day challenges that usually concern those in OCE. "The most demanding part of the job is dealing with the myriad of COVID-related matters that have arisen since March 2020," he said.
One of the most important elements of all OCEs is management of conferences and other meetings, which includes making travel and space reservations, preparing the agenda and lining up speakers, and acting as secretary in all meetings. The gamut of meetings runs from monthly committee meetings of a dozen or fewer participants, now often held by Zoom or Microsoft Teams, to the annual judicial conference, involving hundreds of judges and lawyers who meet for several days. This year's conference plans have mostly been suspended nationwide as various regions struggled to keep COVID-19 related illnesses in check.
Margaret A. Wiegand, circuit executive for the Third Circuit, is in her ninth year in the position. She oversees a staff of 32 in her three-state-plus-Virgin Islands region.
Wiegand takes her role as a national leader seriously, "by statute, circuit executives serve as the liaison to the state courts, the U.S. Marshals, state and local bar associations, civic groups, news media, and other groups having an interest in the administration of the circuit," she said. Other leadership positions include serving on judicial conference advisory boards, ensuring data reporting triggers proper funding, building effective relationships with key members of the AO and identifying innovative solutions that can be piloted within the circuit to enhance efficiency and the delivery of justice.
When she took on the job, Wiegand noted a change from earlier roles. "As circuit executive my role is both inward and outward, which I particularly enjoy. In the past years, new responsibilities have been added to circuit executives' plates, including IT security, budgeting of large criminal cases and workplace relations. Because of the breadth of responsibility for a circuit executive, time management is a must," she said.
All circuit executives have the same mandated duties, but each sees their role differently depending on circuit needs. James N. Ishida has been the circuit executive for the Fourth Circuit for over three years, and his office, along with colleague Pat Connor, clerk of the court, helps support the court of appeals. He has a staff of 42 "great employees and two wonderful part-time paid interns," he said.
Ishida sees three main functions to his job. "First, I'm the keeper of our core values: to provide outstanding customer service to our judges, court colleagues and public in a way that promotes integrity, collaboration and collegiality.
"Second, I participate in every hiring decision that we make," said Ishida. "Warren Buffett once said, 'We look for intelligence, we look for initiative or energy, and we look for integrity.' To that, I'll add does the candidate reflect our core values and the personal qualities that we're looking for in the position?
"Third, it's all about vision. Greg Linhares, the clerk of court for the Eastern District of Missouri, once said, 'Without a vision of how to improve long-term service to the state's citizens, grounded in the reality of a well-thought-out project plan, . . . court administrators will be left in a reactionary mode, attempting to put out fires rather than guiding future development.' That's spot on," said Ishida.
"We've done a lot of creative, innovative things in the circuit," he added. "We try to anticipate future trends that could affect the courts. And we embrace Kaizen, the Japanese philosophy of continual improvement, all in the name of striving to deliver better customer service to our constituents and public.
Peter R. Marksteiner has been circuit executive and clerk of court for the Federal Circuit, managing a staff of about 80 for both the circuit and the court, for five years and noted the Federal Circuit has a truly unique position in the federal court system. "Though the Federal Circuit is a court of limited subject matter jurisdiction, we are a national court geographically, which provides me the rare opportunity to work and interact with third branch judges and staff, as well as bar associations, inns of court and other groups, from all over the country," said Marksteiner. "It definitely keeps my job interesting in a way that I suspect is rather unique among my circuit executive colleagues."
"Having spent three decades in the Executive Branch before joining the Judiciary, I was—and remain—so very pleasantly surprised by the organizational agility of the Judiciary," said Marksteiner. "Hierarchically, this is a very "thin" organization in terms of layers of supervision. As a happy consequence, major decisions are made and executed at what seems like light speed by comparison to my former home in the Executive Branch. In general, it seems that employees at every level in the organization here are accorded considerably more decision-making authority than their counterparts in other branches of government."
One of the challenges is being as precise as possible to avoid delays and misunderstandings. "Though I'm not always successful, I try very hard to get it right," said Marksteiner. "There's a saying in woodworking, which is a hobby of mine: 'Measure twice, cut once.' Whether I'm sending out a relatively mundane three-line email about operating status on a snow day or submitting an analysis about something considerably more complex and consequential, I double- and triple-check the grammar, the format, the tone, the audience, the substance and so much more. I think it's important to do everything within my ability to appropriately execute the work I'm entrusted to carry out."
The OCE for the Eighth Circuit was formed in 1972 with two employees, and Millie Adams has held the circuit executive position for the last 23 years. She oversees a staff of 20 and, along with the duties mentioned above, like other circuits, oversees IT and construction functions for the circuit.
As technology became available, like its sister circuits, the Eighth Circuit OCE stepped up to modernize chambers. The circuit introduced email in 1991 and finished installing the Data Communications Network in 1998. The IT staff led the transition to Blackberries and then to iPhones and has been involved in many pilot projects which provided valuable assistance to other courts in the judiciary, Adams said.
Adams, like all circuit executives, manages all space and facilities projects for the court of appeals which includes developing, planning and acquiring space, monitoring construction and reviewing requests for renovations and alteration of space. And one of Adams' biggest jobs has been overseeing the construction in her circuit.

There have been six courthouses and one annex built entirely during her tenure, including two courthouses completed in her first year. There are two new courthouses under construction for Des Moines and Council Bluffs, Iowa, one to be finished in 2021 and one in 2022. Adams has attended all the openings and has gleaned deep experience in complex building construction along the way.
"For a substantially-sized new courthouse, from application to doors-open, it usually takes about 10 to 12 years," to build from start to finish, said Adams. "For example, the New Des Moines Courthouse feasibly study began in 2010. It was approved as a project by the Judicial Conference on September 16, 2014. It is now under construction, with substantial completion scheduled in late 2022."
Critical design changes have been introduced, as well. "The design and implementation of building security follows the USMS Publication 64," said Adams. "The gradual increase in violent acts to our federal facilities requires a heightened resolve to review and assure the building security requirements are met. Adams noted overseeing the construction of over two million square feet of courthouse space is rewarding. "It is a very satisfying feeling to be part of a team accomplishment such as this," she said.
Marc Theriault has been circuit executive for the Sixth Circuit for about a year and a half and was deputy circuit executive of the Ninth Circuit for about two years prior to that. His staff of 32 also manages many of the administrative aspects of the court of appeals, including IT and HR.
"Our circuit runs from the Mississippi Delta in Memphis to the Great Lakes, and from Appalachia to the Mid-West, so there are some interesting cultural differences in the districts within the circuit," noted Theriault.
"The variety of the day-to-day work," is both the most demanding and interesting aspect to his job, said Theriault. "Dealing with a wide range of issues – everything from space and facilities to drafting circuit policies – and a wide range of members of the judiciary, including federal public defenders, pretrial and probation officers, bankruptcy, district, and circuit clerks and judges, keeps the day-to-day exciting and challenging. Having six months of my first year as circuit executive occur in the midst of a global pandemic hasn't been a walk in the park," he said with a smile.
Watch for the second and final article celebrating the 50th Anniversary of the Office of the Circuit Executive coming out in June.