John B. Owens was officially seated Friday
(April 25, 2014) as the newest judge of the United States Court of Appeals for the Ninth Circuit, the largest and busiest federal appellate court in the nation.
Judge Owens was sworn in during a special court session convened at the new federal courthouse in San Diego. More than 200 guests attended the special session, including his family, friends and many colleagues from among the bar.
Nine judges of the court were present for the investiture ceremony, including Chief Judge Emeritus J. Clifford Wallace of San Diego, who administered the oath of office to Judge Owens, his former law clerk. Circuit Judge M. Margaret McKeown, also of San Diego, presided and made opening remarks.
Also speaking were Laura E. Duffy, the current U.S. attorney for the Southern District of California, and two of her predecessors in that office, Carol C. Lam and Karen P. Hewitt, all of whom worked with Judge Owens during his years as a federal prosecutor in San Diego; and Senior District Judge Thomas J. Whelan of the Southern District, a mentor and role model.
The investiture was very much a family affair with Judge Owens' wife, Marjorie, speaking to the gathering and holding the Bible while her husband took the oath of office. Their two young daughters led the Pledge of Allegiance and helped their father don his black robe for the first time. Also present were Judge Owens' parents and siblings.
With the seating of Judge Owens, the Ninth Circuit Court of Appeals is now operating with 28 judges for the first time in more than two decades. Congress expanded the Ninth Circuit bench to 28 judgeships in 1984 and authorized a 29th judgeship in 2009. However, the court has operated with at least one vacancy since 1992.
Judge Owens fills a judgeship vacant since December 31, 2004, when Judge Stephen Trott assumed senior status. The prolonged vacancy was the result of a disagreement in the Senate over whether the seat should be filled by California or Idaho.
Judge Owens was first nominated by President Obama on August 1, 2013. His nomination was among those not acted upon by the Senate in the last session of Congress. He was renominated by the president on January 6, 2014, favorably reported to the Senate floor on January 16, 2014, and confirmed on March 31, 2014.
Judge Owens is the 99th judge to be appointed to the Ninth Circuit Court of Appeals and, at age 42, among the youngest appointees. He is the most recent San Diegan to sit on the court, following in the footsteps of the late Judge David R. Thompson, who served as an active judge from 1985 to 1998.
Prior to coming onto the bench, Judge Owens had been a litigation partner in the Los Angeles office of Munger, Tolles & Olson LLP since January 2012. Much of his earlier career, however, was devoted to government service as a federal prosecutor. He served as an assistant U.S. attorney for the Central
.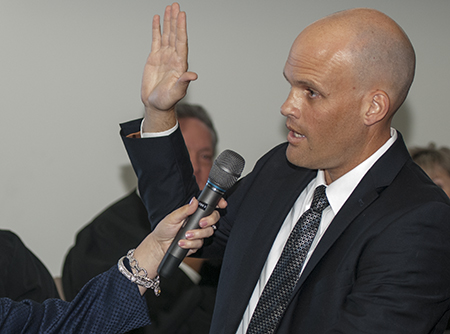 Ninth Circuit Judge John B. Owens receives the oath of office during an investiture ceremony in San Diego. After being seated, Judge Owens thanked a number of people, including Chief Judge Emeritus J. Clifford Wallace for whom he had law clerked, below.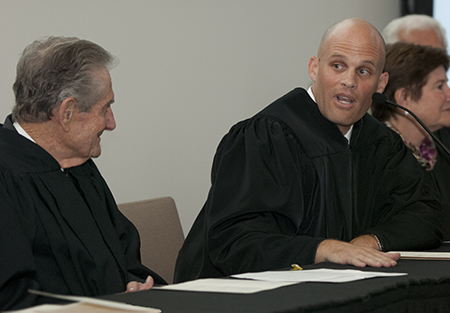 District of California in Los Angeles from 2001 to 2004, when he transferred to the Southern District of California in San Diego. He became chief of the Criminal Division in the Southern District in 2010, overseeing all criminal prosecutions in one of the busiest and most productive U.S. attorney offices in the nation.
Earlier in his career, Judge Owens worked as a litigation associate at the law firm of O'Melveny & Myers LLP in Washington, D.C., from 2000 to 2001, and as a trial attorney in the Department of Justice, Office of Consumer Litigation, from 1998 to 1999.
Born in Washington, D.C., Judge Owens received his B.A. with high distinction in 1993 from the University of California, Berkeley, and his J.D. from Stanford Law School, where he graduated first in his class in 1996. After law school, he clerked for Judge Wallace and Justice Ruth Bader Ginsburg of the U.S. Supreme Court.
The Ninth Circuit Court of Appeals hears appeals of cases decided by executive branch agencies and federal trial courts in nine western states and two Pacific Island jurisdictions. The court normally meets monthly in Seattle, Washington; San Francisco, California; and Pasadena, California; every other month in Portland, Oregon; three times per year in Honolulu, Hawaii; and twice a year in Anchorage, Alaska.
The U.S. Court of Appeals for the Ninth Circuit had 12,826 new case filings in fiscal year 2013. The court is authorized 29 judgeships, one of which is currently vacant.
###