The Oregon legal community gathered in Portland earlier this month for a special proceeding recognizing Circuit Judge Susan P. Graber of the United States Court of Appeals for the Ninth Circuit.
One of Oregon's most accomplished jurists, Judge Graber is celebrating her 25th year of combined service on the federal and state benches. She has served as a federal appellate judge since 1998, and was previously an associate justice of the Supreme Court of Oregon, from 1990 to 1998, and a presiding judge of the Oregon Court of Appeals, from 1988 to 1990.
The special proceeding, held October 7, 2013, commemorated the unveiling of a portrait of Judge Graber, which will hang in the historic Pioneer Courthouse in Portland. The 138-year-old courthouse serves as the Portland home of the Ninth Circuit Court of Appeals, providing chambers for Judge Graber and several colleagues.
Ninth Circuit Judge Barry G. Silverman of Phoenix presided over the session, joined on the bench by Judge Graber and Senior Circuit Judge Edward Leavy, also of Portland. Circuit Judges William A. Fletcher of San Francisco and Consuelo M. Callahan of Sacramento, California, also were present. Cathy A. Catterson, the circuit and court of appeals executive, served as clerk of court.
In attendance were Judge Graber's husband, William June, and their daughter, Rachel June-Graber, and more than 100 guests, including judges of the U.S. District Court for the District of Oregon, justices of the Oregon Supreme Court, other state court judges and Oregon Attorney General Ellen F. Rosenblum.
The program included remarks by Judge Leavy, the Honorable Edwin J. Peterson, retired chief justice of the Oregon Supreme Court, and a videotaped message of congratulations from former President Bill Clinton, who nominated Judge Graber to the federal bench 15 years ago.
Judge Silverman provided a light-hearted start to the program with a humor-filled recounting of Judge Graber's academic and professional background, including her friendships with the former president and his wife, Hillary Rodham Clinton, while they were students at Wellesley College. Turning more serious, he described Judge Graber as one of the court's most prolific jurists, noting that she had participated in nearly 6,400 appeals and authored nearly 1,300 majority opinions or dissents.
Delivering a touching personal tribute, Rachel June-Graber said her mother had proved that a woman need not choose between a career and family and could perform in her chosen profession just as well, if not better, than a man.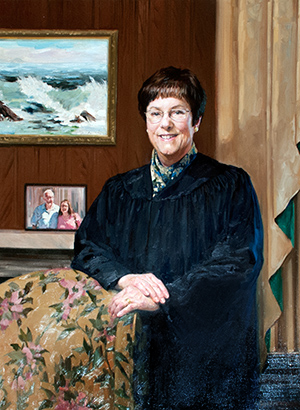 Judge Graber's portrait will hang in the historic Pioneer Courthouse in Portland. Judge Graber with her Ninth Circuit colleagues, Judge Barry G. Silverman, left, and Edward Leavy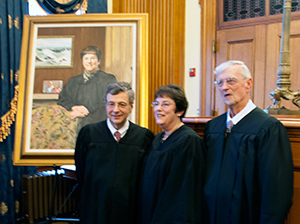 "Because women like her have paved the way, young women like me are judged based on our merit and not our gender," she said.
In her response, Judge Graber thanked a long list of people with particular note to her husband and daughter.
"I love my work and I think that's why I have such a big smile in the painting," she said.
Prior to coming onto the bench, Judge Graber was in private practice in Oregon, Ohio and New Mexico, from 1974 to 1988. She also has served as an assistant state attorney general in New Mexico. An Oklahoma native, she received her B.A. in 1969 from Wellesley College and her J.D. in 1972 from Yale Law School.
The portrait of Judge Graber was commissioned by her former law clerks, two of whom formally presented the painting to the Pioneer Courthouse Historical Society during the program. The society, in turn, immediately conveyed ownership to the Ninth Circuit Court of Appeals.
Done in oils on canvas by a local artist, Wayne Chin, the portrait will adorn a room immediately adjacent to the courtroom that is used by attorneys while waiting to present arguments.
The Pioneer Courthouse, which opened in 1875, is the oldest federal courthouse in the western states. It has served as the Portland home of the Ninth Circuit Court of Appeals since 1973. The portrait of Judge Graber joins those of eight other noteworthy jurists who have the served the court since 1892.
###