First African-American Leads Arizona Federal Court
September 30, 2013 / Ninth Circuit Public Information Office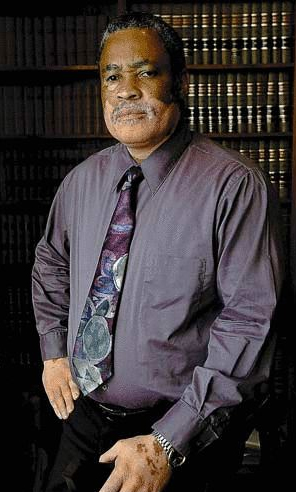 PHOTO COURTESY OF TUCSON CITIZEN
Chief Judge Raner C. Collins
One of the nation's busiest federal trial courts marked another milestone this fall with the appointment of its first African-American chief judge.
The Honorable Raner C. Collins became chief judge of the United States District Court for the District of Arizona on September 3, 2013. He succeeds the Honorable Roslyn O. Silver, who also made history in 2011 as the first woman to lead the Arizona court. Judge Silver has assumed senior status.
Judge Collins was one of two African-Americans to come onto the Arizona bench in 1998. Glenda E. Edmonds was first, appointed in February to serve as an Article I magistrate judge. Judge Collins followed in August and has the distinction of being the first African-American to be confirmed as an Article III district judge in Arizona. He was elevated to chief judge on the basis of seniority and can serve in the leadership post for up to seven years.
Judge Collins may not have much time to appreciate his accomplishment. He takes the helm at a time of crisis for all of the federal courts, which have been cutting staff and services as a result of inadequate funding.
"I intend to add my voice to the chorus of other voices calling upon Congress to fully fund the Judiciary as an equal branch of government," Judge Collins said. "I don't think (full funding) has been the case for sometime now."
Along with other federal courts, the District of Arizona has been constrained by inadequate funding in prior years followed by indiscriminate cuts under sequestration this year. The Office of the Federal Defender, the clerk's office and the court's Probation and Pretrial Services divisions have been hardest hit, requiring furloughs and layoffs of staff.
"This has been an extremely difficult year for our court budget-wise. I am very concerned for our employees and about what is happening to court services," Judge Collins said.
One of two southwest border courts in the Ninth Circuit, the Arizona court has a substantial criminal caseload driven by illegal immigration and drug smuggling over the U.S.-Mexico border. The court is currently authorized 13 judgeships and is eligible for up to six more judgeships based on its current caseload. New judgeships for Arizona are included in both a comprehensive national judgeship bill and special legislation intended to provide emergency assistance to particularly needy courts. It is unclear whether either effort will win passage in Congress due to costs.
"It would certainly give us the flexibility to handle whatever comes our way," Judge Collins said.
The Arizona court did receive some good news last week with the announcement of nominees for four of the court's six vacant judgeships. The new judges along with ongoing contributions of senior judges, many of whom are carrying full caseloads, will help the court bring its caseload under control.
"We are very grateful that the White House and Arizona's Congressional Delegation are working together to get much needed judicial resources to the people of Arizona," Judge Collins said.
Judge Collins has spent his entire career in public service in southern Arizona. He served in the Pima County Attorney's Office as a law clerk and trial attorney from 1975 to 1981, and as the county attorney from 1983 to 1985. He was a magistrate in the Tucson City Court, 1981 to 1983, and a judge and judge pro tem on the Pima County Superior Court, 1985 to 1998.
Born in Malvern, Arkansas, Judge Collins earned in B.A. from Arkansas Polytechnic College (now Arkansas Tech University) in 1973, and his J.D. from the University of Arizona College of Law in 1975.
###