The United States Court of Appeals for the Ninth Circuit recently held its annual orientation program for newly-hired law clerks working with judges of the nation's largest and busiest federal appellate court.
Some 133 law clerks participated in the intensive two-day program, which was held September 18-19, 2013, at the James R. Browning U.S. Courthouse in San Francisco. Court operations and procedures, legal writing, ethics and use of social media, appellate jurisdiction and standards of review, and criminal law issues were among the topics covered.
U.S. Supreme Court Justice Anthony M. Kennedy, who previously served on the Ninth Circuit Court of Appeals and is now the Supreme Court justice designated to handle Ninth Circuit matters, spoke to the group, remarking upon workloads, opinion writing and interaction with other judges and their clerks.
In his remarks, Justice Kennedy made particular note of unpublished opinions, which are used to resolve a large majority of the court's more routine cases. He urged clerks to remember that, while not precedential, every unpublished decision applies to "a real case with real people."
Also involved as presenters and panelists were judges of the Ninth Circuit Court of Appeals and the U.S. District Court for the Northern District of California, Circuit and Court of Appeals Executive Cathy A. Catterson, Clerk of Court Molly C. Dwyer and other court staff.
In addition to the orientation program, the clerks also were able to observe rare en banc proceedings in which a special court of 11 judges hears cases deemed to be of exceptional importance. Fewer than 20 cases per year typically receive en banc review.
The Ninth Circuit Court of Appeals currently has 27 active judges and 16 senior judges. Their chambers staff typically consists of a judicial assistant and three to four law clerks. Staffing for senior judges varies depending on their caseloads.
The 2013-2014 law clerk contingent includes graduates of law schools from across the country with Yale, Stanford and Harvard having the most representatives.
The Ninth Circuit Court of Appeals hears appeals of cases decided by executive branch agencies and federal trial courts in nine western states and two Pacific Island jurisdictions. The court normally meets monthly in Seattle, San Francisco and Pasadena, California; every other month in Portland, Oregon; three times per year in Honolulu, Hawaii; and twice a year in Anchorage, Alaska. A complete schedule of cases is available online at http://www.ca9.uscourts.gov.
###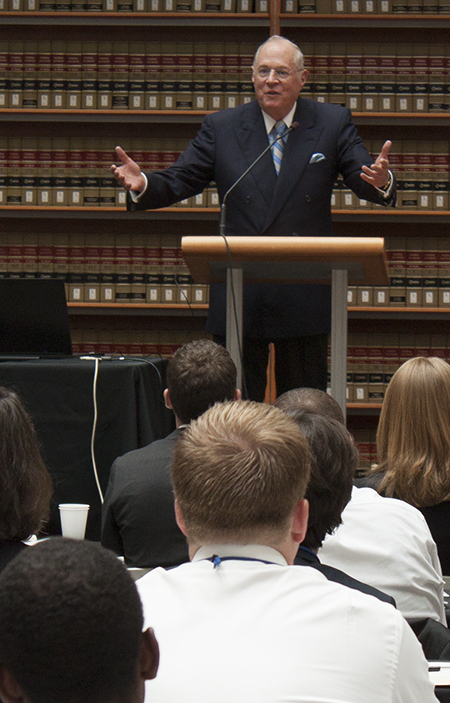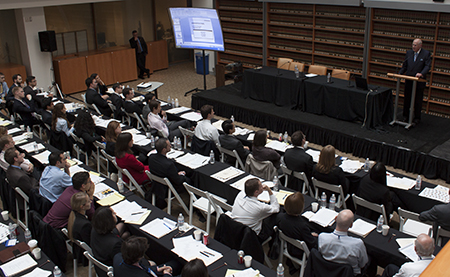 Remarks by U.S. Supreme Court Justice Anthony M. Kennedy, above, highlighted the annual new law clerk orientation program. En banc procedures were explained, below, by Ninth Circuit Judge Sidney R. Thomas, right, and Paul Keller, a supervising staff attorney.