Federal Courthouses Gain Landmark Status
October 18, 2012 / Ninth Circuit Public Information Office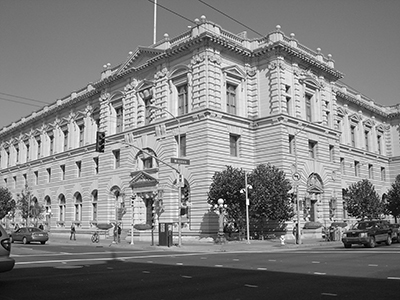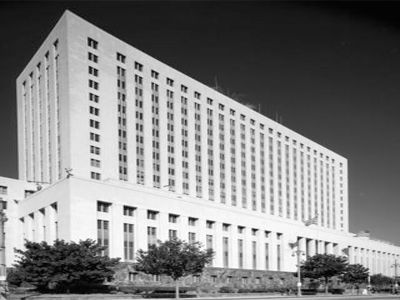 The James R. Browning U.S. Courthouse, top, and Spring Street Federal Courthouse, above.
The United States Department of the Interior announced Wednesday (October 17, 2012) that the James R. Browning U.S. Courthouse in San Francisco and the Spring Street federal courthouse in Los Angeles have been designated national landmarks.
The Browning courthouse, which opened in 1905 as both a courthouse and post office, now serves as the administrative headquarters for the U.S. Court of Appeals for the Ninth Circuit. Designed by James Knox Taylor, the supervising architect of the U.S. Treasury, the courthouse is considered one of the nation's most beautiful public buildings. It was added to the National Register of Historic Places in 1971. In 2004, Congress authorized the naming of the building for the Ninth Circuit's late chief judge emeritus, the Honorable James R. Browning.
A San Francisco landmark, the Browning courthouse sustained fire damage in the 1906 earthquake, but was closed after the 1989 Loma Prieta earthquake, which caused extensive structural damage. Judges of the court and elected leaders rallied support for its repair and restoration, resulting in a $91 million project that included seismic improvements to protect against future earthquakes. The building reopened in 1996, seven years to the day after the Loma Prieta earthquake.
Over its 107-year history, the Browning courthouse has been the venue for many important legal rulings, including most recently a decision striking down a California constitutional amendment prohibiting same-sex marriage.
The Spring Street courthouse in downtown Los Angeles was built between 1937 and 1940. Originally designed as a 15-story structure, two additional stories and a penthouse were added late in the construction. It was the third federal building to be constructed in Los Angeles and also once housed a post office. At the time of its completion, it was the largest federal building in the western states. It was added to the National Register of Historical Places in 2006.
The Los Angeles courthouse also has a colorful history. It was the venue for the first ruling that public school segregation was unconstitutional, the 1946 Mendez vs. Westminster School District lawsuit, and the 1973 federal government case against Daniel Ellsberg for leaking the "Pentagon Papers," according to the U.S. General Services Administration.
The federal courthouses were among five California locations given the landmark designation Wednesday by Interior Secretary Ken Salazar. Also designated were the Cesar E. Chavez National Monument in Keene, the Drakes Bay Historic and Archeological District at Points Reyes Station and the Knight's Ferry Bridge in Stanislaus County. The designations bring the total number of national historic landmarks to 2,527, in addition to 592 sites that have been declared national natural landmarks.
# # #