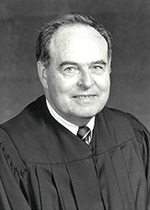 Judges of the United States Court of Appeals for the Ninth Circuit convened in a special session in Seattle recently to remember their late colleague, Senior Circuit Judge Robert R. Beezer, who died in March at age 83. Family, friends and admirers attended the session, which was held June 25, 2012, at the William K. Nakamura U.S. Courthouse.
A lawyer since 1956 and a federal judge since 1984, Judge Beezer was remembered as a tenacious litigator and a dedicated and hardworking jurist who strove to achieve consensus but was never afraid to go his own way. He was generous in sharing his knowledge and experience with colleagues, kind and thoughtful in mentoring dozens of law clerks, and the epitome of courtesy and civility in the practice of law to all, speakers said.
Appointed by President Reagan, Judge Beezer received his judicial commission on March 28, 1984. He assumed senior status on July 31, 1996, but continued to hear cases for many more years. He carried on his work even after his eyesight failed, using special computer technology the enabled him to listen, rather than read case briefs.
Ninth Circuit Chief Judge Alex Kozinski, a fellow Reagan appointee who came onto the court nine months after Judge Beezer, recalled "looking particularly up to him as the wiser head among us."
"He was always willing and anxious to follow the law where it was set. But he was not afraid to blaze new trails where justice called for it and where the law was not otherwise set," Judge Kozinski said, pointing to Judge Beezer's opinion in Ellison v. Brady, which first set out the "reasonable woman" standard for sexual harassment.
Judge Diarmuid F. O'Scannlain recalled that Judge Beezer was asked at his Senate confirmation hearing how he would handle disagreements with his colleagues. According to the hearing transcript, Judge Beezer responded that, "Appellate courts should attempt to resolve their differences and to speak with a single voice. But if a constitutional principle were involved, I would have no difficulty in being the lone dissent or the voice in the wilderness."
"As any of us who had the pleasure of serving with him can attest, he lived up to these statements every day for the next 28 years," Judge O'Scannlain said.
Judge M. Margaret McKeown recalled that her friendship with Judge Beezer began in 1975 as attorneys on opposite sides of a long running case. Then a young associate, she had been riding the bus to the courthouse until Judge Beezer spotted her at the bus stop one day and began giving her a lift to work in his car. After her appointment to the court in 1998, Judge Beezer shared his experience and helped hone her writing skills, advising her "not to waste words, but also not to mince words."
"We will miss your precision and your care with opinions, and we will miss your constant reminder that there is no substitute for good manners, courtesy and professionalism," Judge McKeown said.
Judge Richard C. Tallman, the final colleague to make remarks, focused on Judge Beezer's remarkable record of service. In 12 years of active service, Judge Beezer participated in more than 3,400 panel decisions. In 16 years as a semi-retired senior judge, he was involved in 4,000 panel decisions. All told, he authored 626 majority opinions, 80 dissents and 59 concurrences, and more than 5,700 memorandum dispositions.
"No matter how you count the cases he handled, Bob was a very active United States circuit judge," said Judge Tallman.
Also speaking was attorney Bradford F. Englander, who clerked for Judge Beezer from 1985 to 1986 and recalled his mentor as "a bit shy, quite humble and without doubt the kindest man I have every known."
The program ended with remarks by Judge Beezer's daughter, Allison Beezer, who remembered a loving family man, who was devoted to his wife, Hazlehurst, and achieve a special relationship with each of his children.
###