Judges and staff at the nation's busiest bankruptcy court are taking a hard look at ways to better serve people who file for bankruptcy without a lawyer while having little or no understanding of the process and procedures.
The United States Bankruptcy Court for the Central District of California serves more than 18 million people living in seven Southern California counties. Its divisions in Los Angeles, Santa Ana, Riverside, Wodland Hills and Santa Barbara received 134,501 bankruptcy filings last year, the most in the country. Of those, 38,098 were filed by self-represented debtors. That's 30 percent of the total of self-represented bankruptcy filers nationally, and more than all of the other bankruptcy courts in the western states combined.
Today, one out of every four persons who files for bankruptcy in the Central District does so without an attorney. About 60 percent of them will successfully complete the bankruptcy process while the other 40 percent will have their cases dismissed for various reasons. Whatever the outcome, all of them will require a greater amount of court services than a lawyer would typically need, further stretching already thin court resources.
While complex bankruptcy rules must be followed, the court is trying to help make them more understandable to self-represented debtors through self-help centers, Internet websites, community meetings and other resources. The local bar and various community groups also are being encouraged to lend a hand by providing free legal representation. The Public Counsel Law Center, the Public Law Center, Bet Tzedek, the Public Service Law Foundation, the Legal Aid Foundation of Santa Barbara County, and Neighborhood Legal Services of Los Angeles County are among the organizations that have answered the call, assisting 8,441 debtors last year.
"These are much needed services which we would be unable to provide without the enthusiastic assistance of numerous volunteer attorneys and non-profit organizations," said Kathy Campbell, executive officer and clerk of court.
The challenges posed by self-represented parties are documented in a report recently released by the court entitled "Access to Justice in Crisis: Self-Represented Parties and the Court." It was prepared as part of a broader review of the court's long-term Strategic Plan, which sets out operational goals and priorities for the next 10 years.
"Access to justice and service to the public comprise a key component of our strategic plan," said Chief Bankruptcy Judge Peter Carroll. "The report is a major step toward our goal of both identifying and eliminating barriers to ensure that justice remains accessible to everyone."
Court statistics show that a self-represented debtor is almost eight times more likely to have his or her Chapter 7 case dismissed than a debtor represented by counsel. The odds are even worse in Chapter 13 cases, which are often filed by homeowners seeking to avoid foreclosure. A self-represented debtor has less than a 1-percent chance of successfully completing a Chapter 13 bankruptcy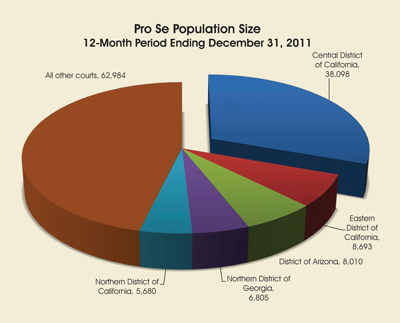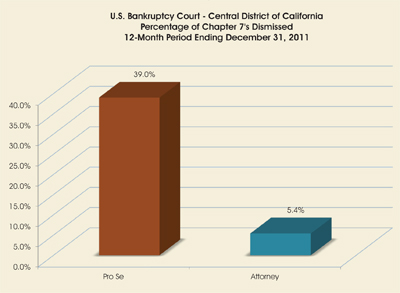 The report found that many self-represented debtors in the Central District are low-income and non-English speaking. They have limited education and find it difficult to read and understand even the most basic bankruptcy forms. Although usually eligible for free legal assistance, many rely, instead, on a bankruptcy petition preparer, or BPP, who charges between $200 and $1,200 to prepare forms to be submitted to the court. The use of a BPP is often not revealed in the filing, but the practice is thought to be widespread, particularly among Hispanics and Filipinos who turn to their neighborhood "notario" for help.
While some BPPs operate legitimately, anecdotal evidence suggests that many fail to fulfill their duties in a timely fashion, give questionable legal advice, and have no legal training. Unscrupulous BPPs also are thought to be behind the filing of cases without the knowledge of the debtor named in the case, and the practice of "hijacking" cases to forestall foreclosure by falsely transferring trust deeds into the name of another debtor in hopes of gaining an automatic stay.
"We are discovering all sorts of really awful things that people are doing out there to consumers," said Bankruptcy Judge Maureen Tighe, who wrote parts of the report and made other contributions.
The growing problem of non-attorneys filing cases for debtors led the court last year to implement a Debtor ID Program. Anyone filing any document without an attorney of record is now required to show photo ID. If the person making the filing is anyone other than the debtor, a copy of the ID is kept. Should questions later arise about the filing, the third-party filer can be ordered into court.
The system has enabled the court to identify the BPPs responsible for questionable filings. Dozens of BPPs who submitted shoddy work have been ordered to return their fees.
The court also is making it easier for self-represented debtors to file and keep track of their cases. The Central District is one of three bankruptcy courts participating in the Pathfinder Electronic Filing Project, a national program that will allow self-represented debtors to electronically prepare and submit Chapters 7 and 13 bankruptcy petitions. The test courts are expected to begin offering electronic filing to self-represented debtors later this year.
Click here to view the "Access to Justice in Crisis: Self-Represented Parties and the Court" report.
###