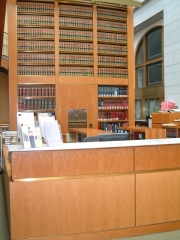 Q: I'm looking for an opinion. I have the citation. How do I get it?
If you have the Federal Reporter citation (e.g., 239 F3d 1004, where the first number is the volume and the second number is the page), several options are available to locate an opinion. One of the most common ways to obtain a copy is to use the fee-based databases of Westlaw and Lexis, available at most public law libraries. You can also go to a public law library and get the opinion from the print reporter volume. You can also call any Ninth Circuit library branch to get the case docket number associated with the citation (see below for finding a case using the case number). Another option is to type the citation into your favorite search engine.
Q: I'm looking for an opinion. I have the case name (or number). How do I get it?
If you have the case name or number (For example, Poland v. Chertoff or 05-35508), the Ninth Circuit Court of Appeals webpage contains opinions from 2005 forward. Commercial websites such as vLex and Findlaw also contain opinions retrievable by case name or number. All Ninth Circuit cases are also available via the fee-based services of Lexis and Westlaw.
Q: How can I get a brief?
Please see the Finding Ninth Circuit Briefs page.
Q: Where can I find statistical information (e.g., how many cases are heard over a year)?
Consult the Statistical Reports page at the U.S. Courts website.
Q: How can I check on the status of my case? Can I review case files?
The clerk's office for the court in question (appeals, district, etc.) responds to most inquiries on the status of a case once given the specific case name or docket number. In many courts, inquiries for information and requests to examine dockets, case files, exhibits, and other records are made at the intake area in the clerk's office. Inquiries may be made by telephone as well.
Almost all federal courts have automated systems that allow for the search and retrieval of case-related information through personal computers at the public counters and through an Internet service called PACER (Public Access to Court Electronic Records). PACER charges a fee, currently $.10, per page retrieved. (See Electronic Public Access Fee Schedule, effective April 1, 2013.) For more information, visit the Directory of Electronic Public Access Services.
In many bankruptcy and appellate courts there also are telephone information systems, which enable callers to obtain basic case information through the use of a touch tone phone. These systems are provided free of charge.

Q: Do you provide legal reference services to prisoners?

No, but here are some libraries in the 9th Circuit that do.