The Library primarily serves over 400 judges and 5,000 court staff in the Ninth Circuit. Headquartered in San Francisco, we have branches throughout the nine most western states. In addition to serving the federal courts, we provide limited service to other federal agencies, state and local courts, members of the bar and the public.
From the Archives: First All-Woman Appellate Panel of Judges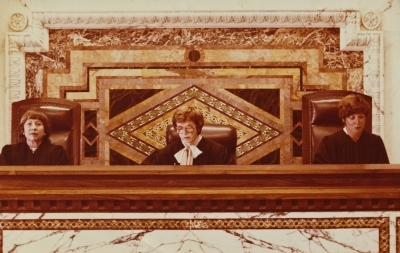 On March 11, 1981 in San Francisco, Ninth Circuit Judges
Betty Binns Fletcher
(middle) and
Dorothy Wright Nelson
(left) with Judge
Judith Nelsen Keep
of the U.S. District Court for the Southern District of California (right), sitting by designation, convened what is believed to be the first all-woman panel of judges ever to sit in any U.S. Court of Appeals.
Read Judge Fletcher's remarks
about this historic event.
Disclaimer: The Ninth Circuit Library provides links on this website for your convenience. We take no responsibility for and exercise no control over the organizations, views, accuracy, copyright or trademark compliance, or legality contained on these sites. The contents of these sites do not necessarily reflect the opinions, standards, or policies of the United States Courts.