The Ninth Circuit Library
The Library primarily serves over 400 judges and 5,000 court staff in the Ninth Circuit. Headquartered in San Francisco, we have branches throughout the nine most western states. In addition to serving the federal courts, we provide limited service to other federal agencies, state and local courts, members of the bar, and the public.
UNDERSTANDING FREEDOM'S HERITAGE
Justice Kennedy's Reading List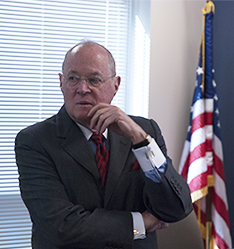 In March 2013, the Justice Anthony M. Kennedy Library and Learning Center opened at the Robert T. Matsui Courthouse in Sacramento. At the dedication ceremony, Justice Kennedy shared a reading list he developed,
Understanding Freedom's Heritage: How to Keep and Defend Liberty.
The Ninth Circuit Library is pleased to announce that Justice Kennedy has authorized us to share the list with you. Click
here
to view the list with links to selected readings, where available.
Disclaimer: The Ninth Circuit Library provides links on this website for your convenience. We take no responsibility for and exercise no control over the organizations, views, accuracy, copyright or trademark compliance, or legality contained on these sites. The contents of these sites do not necessarily reflect the opinions, standards, or policies of the United States Courts.