Ninth Circuit Courts See Changing of the Guard
October 18, 2012 / Ninth Circuit Public Information Office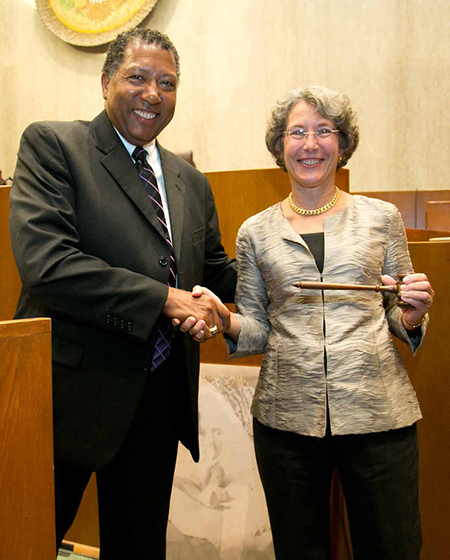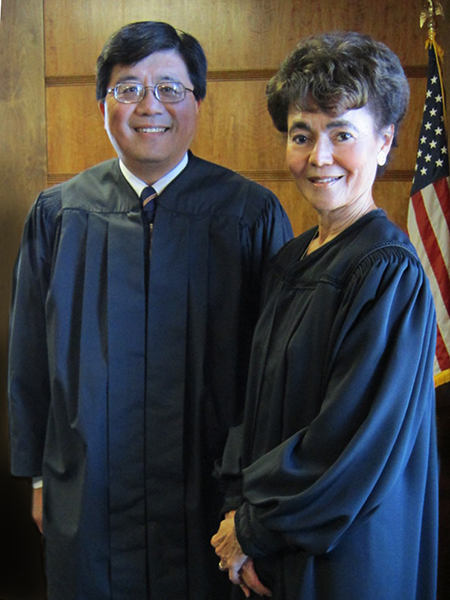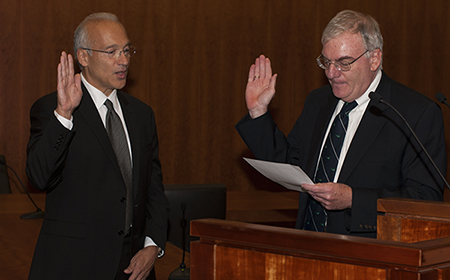 | | |
| --- | --- |
| In the Northern District, top, the gavel is passed to new Chief District Judge Claudia Wilken. New Chief Judge George H. King took the reins in the Central District, middle. Judge Gonzalo P. Curiel receives the oath of office, above. Tyler Gilman, right, is Montana's new district court clerk. | |
Several courts in the Ninth Circuit have recently seen a changing of the guard. New chief district judges have been seated in the Northern and Central districts of California; Alaska and the Southern District of California have new chief bankruptcy judges; and there is a new district clerk in Montana. In addition, the newest district judge in the circuit was formally invested into office in San Diego.
In the Northern District, Chief District Judge James Ware stepped down August 31, 2012, after two years in the post. He was succeeded by new Chief District Judge Claudia Wilken, who has chambers in Oakland. A passing of the gavel ceremony was held on August 23, 2012. Judge Ware resigned his judicial commission to pursue a private practice as a mediator.
In the Central District, Chief District Judge Audrey B. Collins has passed the gavel to new Chief District Judge George H. King, who assumed his new duties on September 14, 2012. Judge Collins had served in the position since January 2009. Judge King is the first Asian American to lead the Central District. He is also the first chief judge to have also served the district as chief magistrate judge.
The circuit