Judges of the United States Court of Appeals for the Ninth Circuit convened in a special session earlier this month to recognize a respected colleague and one of Oregon's most distinguished jurists, the Hon. Diarmuid F. O'Scannlain.
The proceeding, held May 10, 2012, at the historic Pioneer Courthouse in Portland, commemorated the presentation and hanging of an official portrait of Judge O'Scannlain, who has served on the Ninth Circuit Court of Appeals for more than 25 years.
The portrait, done in oil on canvas by noted Portland artist Wayne Chin, was commissioned by Judge O'Scannlain's former law clerks. During the proceeding, the painting was officially donated to the Pioneer Courthouse Historical Society, which, in turn, conveyed ownership to the Ninth Circuit Court of Appeals. The portrait will hang prominently above a fireplace in the Deady Room, immediately adjacent to the courtroom.
Ninth Circuit Chief Judge Alex Kozinski of Pasadena, California, presided over the session, joined on the bench by Judge O'Scannlain, Senior Circuit Judge Edward Leavy, also of Portland, Senior Circuit Judge A. Wallace Tashima of Pasadena, and Circuit Judge Richard C. Tallman of Seattle.
In the audience were judges of the U.S. District Court for the District of Oregon and the Oregon Supreme Court, and the U.S. Attorney and Federal Public Defender for Oregon. Also present were Judge O'Scannlain's wife of 49 years, Maura, and several of their eight children and 16 grandchildren. Special guests included Antoinette Hatfield, wife of the late U.S. Senator Mark Hatfield of Oregon, who supported Judge O'Scannlain's nomination to the bench by President Reagan in 1986.
Among those making remarks were U.S. Supreme Court Justice Anthony M. Kennedy, who sent a videotaped message of congratulations in which he advised Judge O'Scannlain that, "Just because you have your portrait done doesn't mean you can leave!" He later added that Judge O'Scannlain's opinions "have a logic, a lucidity and a fairness about them that demonstrates the very best in our legal system."
Former Oregon U.S. Senator Bob Packwood, who also supported Judge O'Scannlain's nomination, recalled the judge's background as a first-generation Irish immigrant. He noted that the judge once ran unsuccessfully for Congress but wound up serving the public in various other important roles before being elevated to the federal bench.
"You like someone who has had a varied career ... lots of things that give you experience in different areas before you come on the bench," Packwood said.
Presenting the portrait to the historical society was attorney John C. Demers, vice president and the assistant general counsel at the U.S. aircraft manufacturer The Boeing Co., who helped gather contributions from more than 70 former clerks. Demers, who clerked from 1999 to 2000, said he and many other clerks trace their professional success to their experiences with Judge O'Scannlain.
Also making remarks was Dean Robert Klonoff of the Lewis & Clark School of Law, where Judge O'Scannlain serves as an adjunct professor, and Nancy J. Moriarty, president of the Pioneer Courthouse Historical Society.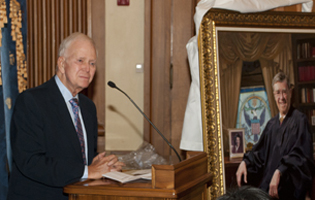 Former U.S. Senator Bob Packwood was among the speakers

Judge O'Scannlain had the last word, expressing thanks to many people, particularly his wife and children.

"Let us remember that the art assembled in this special place, the Pioneer Courthouse, the oldest public building in State of Oregon, is a tribute to the history of the federal judiciary in the Pacific Northwest," he said in closing. "It has been an unbounded joy to exercise my commission from President Reagan in such august surroundings and to know how much our court history is revered by all of you here today."

Since coming onto the bench in 1986, Judge O'Scannlain has participated in nearly 10,000 federal cases and written more than 1,000 published opinions, dissents and dissentals on a broad range of subjects. In addition to his jurisprudential contributions, he has participated in judicial governance at all levels and currently serves as chair of the International Judicial Relations Committee of the U.S. Judicial Conference, the national governing body for federal courts.

Born in New York City, Judge O'Scannlain received his B.A. in 1957 from St. John's University; his J.D. in 1963 from Harvard University; and an LL.M from the University of Virginia School of Law in 1992. He served in the Army Reserve JAG Corps from 1955 to 1978.

Judge O'Scannlain began his legal career in 1963 as a tax attorney for Standard Oil Co. in New York City. He went into private practice in Portland in 1965, then entered public service in 1969, serving as the deputy state attorney general, public utility commissioner and director of the Oregon Department of Environmental Quality. He left state government service in 1975 and continued his private practice until coming onto the bench.

Judge O'Scannlain was retained as a consultant to the Office of the President-Elect from 1980 to 1981; served on President Reagan's Private Sector Survey on Cost Control, also known as the Grace Commission, from 1982 to 1983; and chaired the Advisory Panel to the U.S. Secretary of Energy from 1983 to 1985.

The Pioneer Courthouse in Portland, which opened in 1875, is the oldest federal courthouse in the far western states. It has served as the Portland home of the Ninth Circuit Court of Appeals since 1973. The portrait of Judge O'Scannlain joins those of seven other noteworthy jurists who have the served the court since 1892.

###