Federal courts already make use of sophisticated technology to file and manage documents, calendar cases and present evidence in the courtroom. Now some of that technology is being repackaged to assist jurors as they deliberate the outcomes of often complex cases.
Documents and other materials offered as evidence in a trial are increasingly being submitted as electronic files. At the end of the trial, however, most courts also prepare hard copies of the entered exhibits, including a set for the use of the jury during deliberations. Since major civil and criminal trials can generate hundreds, even thousands of pages of evidence, producing the hard copy record can involve considerable staff time and expense.
Beyond the logistics of production, using hard copy documents can be frustrating for jurors. Finding a particular exhibit from among thousands of pages of documents in stacks of boxes can be difficult. And, once found, the exhibit is typically passed from juror to juror, a slow process that detracts from ongoing discussion.
In the Ninth Circuit, judges in Alaska, Idaho and Washington are experimenting with ways to do away with hard copy. Instead, the jury is provided with computer access to electronic versions of the exhibits, which are displayed on a large video monitor. The electronic files are indexed, allowing for rapid access to a particular document, and the systems will accommodate still images and audio and video recordings stored as electronic files.
One system makes use of a laptop computer (stripped of all other files and functionality) located in the jury room. A more elaborate system, originally developed by the Western District of North Carolina, provides a terminal in the jury room with access to files stored elsewhere on the court computer network. Both off-the-shelf and proprietary software are being used to generate searchable files.
In Seattle, judges of the U.S. District Court for the Western District of Washington began last year using a system called JEEP, which stands for "jury electronic evidence presentation." Developed over 18 months by the court's Information Technology staff in consultation with judges, JEEP may be the most advanced electronic exhibit display system in use in the Ninth Circuit - not in terms of the technology, which is fairly basic, but in execution.
JEEP provides attorneys with step-by-step instructions on how to submit and organize electronic exhibits using Adobe Acrobat software, and provides a process whereby exhibits will be reviewed at the end of the trial to ensure that only accepted exhibits are included. A laptop computer and 42-inch video monitor are use to display the final list of exhibits, and court IT staff provides jurors with instructions on how to use the system.
"We receive exhibits electronically. We display them in the courtroom electronically. It's makes no sense to then give jurors a big bundle of paper that can only be used by one juror at a time," said Chief District Judge Marsha J. Pechman, who encouraged the development of JEEP. "Why not display them in the same way we do in the courtroom? All 12 jurors can be looking at a document and there's an index that let's them move quickly through documents."
In guiding development of JEEP, Judge Pechman went first to court IT staff to confirm that an electronic exhibit system would mean less work and could be done economically and in a secure manner. She then developed a model jury instruction specifically addressing juror use of the system and presented the package to her colleagues at a judges' meeting. A beta test of the system soon followed. A civil case was chosen and Judge Pechman made sure to have paper documents available in the event the system failed. It didn't and the feedback from lawyers and jurors was overwhelmingly positive.
"I don't use it in every case. If I have a small number of exhibits, I do it the old fashioned way. But for anything larger, I have been using it pretty consistently and the jurors seem very happy with it," Judge Pechman said.
As important to budget-conscious courts, putting JEEP together cost nothing.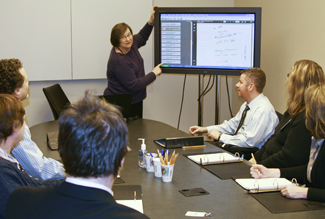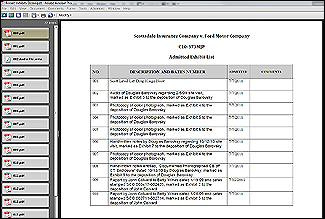 Chief District Judge Marsha J. Pechman of the U.S. District Court in Seattle, top, discusses the JEEP system with court staff. A screen shot of the electronic evidence presentation system, bottom.
"We used old hardware we had available and we paid no development fees. Courts strapped for funds can do it with what is left in the closet," Judge Pechman observed.
District Judge James L. Robart, one of Judge Pechman's colleagues in Seattle, thinks systems like JEEP are here to stay and will eventually be used for all cases, not just document intensive ones.
"If exhibits are in electronic format and jurors like the electronic format because they can all look at it at the same time, and it doesn't cost anything, I think the natural progression is that this is going to become much more common," said Judge Robart.
JEEP was not available in 2009, when more than 130 Idaho farmers sued the federal government and E. I. du Pont de Nemours and Co. after pesticide sprayed on public land drifted onto their fields causing wholesale destruction of crops worth billions of dollars. During the four-month trial, some 11,000 pages of documents were entered into evidence, prompting Chief District Judge B. Lynn Winmill of the U.S. District Court for the District of Idaho to switch to electronic exhibits using essentially the same approach as the court in Western Washington.
"I talked with our IT people and we put it together in three or four days for virtually nothing. The parties were satisfied and it certainly made things much easier for jurors," said Judge Winmill, who now uses electronic exhibits for any major trial.
Judge Winmill said his biggest concern was making sure the laptop could only be used for reviewing exhibits.
"It has to be isolated so that you are absolutely sure it cannot be used to get outside information," he said.
District Judge Timothy M. Burgess of the U.S. District Court for the District of Alaska is getting ready to make use of the system developed by the Western District of North Carolina, which uses a networked computer terminal and big screen video monitor. The equipment has been installed in the jury room of Judge Burgess' courtroom in Anchorage. He intends to introduce the system to attorneys through CLE training.
"It will be interesting to see how quickly lawyers adapt. We have used digital evidence in our courtrooms for some time so it's a pretty easy transition from that to sending it back to the jury," Judge Burgess observed.
Still, Judge Burgess expects some resistance both from the bar and the bench.
"When the courts first transitioned to electronic case filing some found the change difficult," he said. "Now, I have to say I cannot imagine going back to having paper documents."
###